This just in: Lady Gaga and Tony Bennett have won a Grammy for
Cheek to Cheek
.
Oh boy! So despite selling only 1/3 of the number of albums that Streisand did, and despite the fact that
Cheek to Cheek
couldn't even last 5 months on the charts, they managed to win the Grammy for Best Traditional Pop Vocal Album.
And lucky Lady Gaga is taking the news oh so humbly, as is her nature.
Post-Grammy update: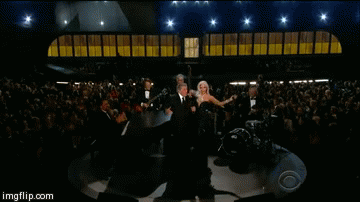 So, what did YOU think of the results? Were you surprised that Tony/Gaga won?
And how about that performance?