Elton John got owned tonight.....by karma. Karma came swift with gnashing teeth. On the red carpet at the Golden Globe Awards, Carson Daly chatted with Elton John who's song Hello Hello with vocals featuring his friend Lady Gaga, was nominated for Best Original Song, along side Madonna with her song Masterpiece. Carson brought up John's competition where he tactfully summed it up by saying:
"Mary J [Blige] might win for The Help -- Madonna hasn't got a fucking chance."
Carson replied with "Those are fighting words!" with Elton saying "No, those are accurate words".
When Madonna came across Carson Daly just moments later, he told her Elton had just been by where Madge responded 'Was he wearing a dress?'. Then when told of his comment she answered back 'May the best man win".
Guess who won?

M . A . D . O . N . N . A .
You were saying Elton?
Oh check out Elton's face when Madonna made her acceptance speech. What's that about Madonna being irrelevant monsters? What? WHAT???? I CAN'T HEAR YOU!!!! Hmph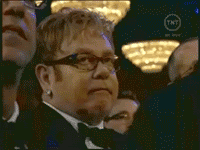 It's worth mentioning that Elton and Gaga are very close. She is the Godmother to his child and they are working on a duet together for Gaga's rushed album, which you know is just gonna suck.
Congratulations Madonna!!!!
Here's the song Masterpiece from her film W.E.
Oh yeah, can't forget footage of the actual WIN! I hope Elton DVR'd it.